Associate members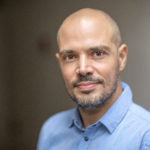 Daniele Salerno is a Marie-Curie Fellow (2019-2023)associated with the ReAct group. His research entails a comparative study of the role of cultural memory in LGBTQ activism in the Netherlands, Argentina, and Italy.
Read more about Daniele's project
---

Sophie van den Elzen was a PhD candidate, funded by the Dutch Research Council. Her project examined how first-wave feminism mobilised the cultural memory of slavery and abolitionism.
Read more about Sophie's project
---